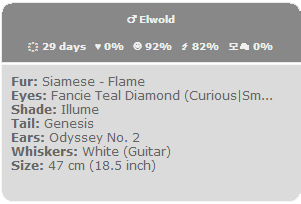 Happiness is a stat shown on your KittyCat and is denoted by the symbol ☺ or ☻ .
Happiness boosts relatively quickly from milk or from interacting with your cat.
In order to reach ♥♥100% love for cats to be eligible to breed, a cat needs ☻ happiness at 75% or higher.
Boosting Happiness
Edit
To expedite the process in which happiness is gained, a cat must have either Vita-Milk (purchased at the KittyCatS Main Store or the online cattery) or must have had one of the following interactions:
Petting
Holding
Cuddling
Attaching (Teacup/Toy only)
Riding (MegaPuss only)
If a cat has had one of the interactions mentioned above for at least 30 minutes, their happiness symbol will go from the clear smiling ☺ face to the solid ☻ smiling face and they will also gain a boost to love if the solid ☻ smiling face is present.
Happiness Vitamins
Edit
A cat may consume an infinite amount of happiness vitamins to boost their happiness:
Happy5 vitamin with a 5% happiness boost, costing 60L/K$150
Happy10 vitamin with a 10% happiness boost, costing 120L/K$300
Happiness Vitamins can be purchased either at the KittyCatS Main Store or in the online cattery.